The Enneagram as a Tool to Connect with Your Meaning
Through over 40 years of my own personal development and 14 years+ coaching others, I have learned, used and developed many tools along the way.
The Enneagram remains one of those I use most often with clients and always come back to in myself. I have seen it open huge doors to more development in my clients.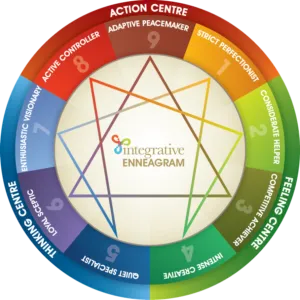 One of the reasons I find it so useful is that it links perfectly with the Mind Habits approach I use & follow with clients.
By looking at the 9 Core Types, we can get insight into your core motivation - what drives you. The Enneagram is also so much more than simply a 'typing' system like other personality profiles.
Instead, the Enneagram opens up an entire world, starting with your core type, plus 8 other 'muscles' that you can explore and strengthen.
It is a perfect way to really see the areas within yourself that are out of balance as well as a system to bring you back into balance.
With that knowledge, we can map the things that keep you stuck and those development areas that can help set you free to move forward with more meaning.
As an Integrative Solutions Accredited Enneagram Practitioner, I'm able to offer you a comprehensive and reliable assessment, a 20 page individualized report, plus a 45 minute feedback session to orient you to the process.
Because the Enneagram is useful in any stage of development, I offer the Assessment and Feedback sessions as part of my coaching service or as a stand alone product.
↓What People Are Saying
I've supported individuals, couples, business partners and organizations with these Enneagram assessments. Here are what people are saying:
Janette's explanation of my Enneagram was the first assessment that ever told me HOW to change my mindset to be more of the person I wanted to be. -BB, California
I found the Enneagram Assessment very comprehensive - not just an interesting exercise. Because it was comprehensive, I needed Janette to help me go through the assessment. She supported me in bringing in some lesser personality types to soften the more prominent one that dominated my life. I believe the Enneagram and report is a valuable tool to use in business as well as our personal life. PB, Business Owner

This experience has been enlightening, humbling and reinvigorating for my marriage. It has provided me with tools to better understand myself and understand my spouse.

I appreciate all your support very much--my business partner and I have a totally new understanding of our dynamic, and we are very excited again about the direction of the business.
Find Out More about the Enneagram & You

If you'd like a 15 minute chat to find out more about the Enneagram assessment and/or feedback session, you can schedule that by clicking below.
Book Your Free Enneagram Curiosity Session
You can also check out the specific offering that might be interesting to you by clicking below: